Faith Daily Workout
---
---
Why would a compassionate all powerful God allow horrible things to happen to good people?
This is a favorite question of skeptics with an agenda. Recently, I was watching a Television News Program after a shooting rampage that had resulted in mass casualties… the hosts had invited a Minister on the program and asked him the question, "Why do terrible things happen to good people?" The Minister hemmed and hawed and finally said something like, "We mortals can't hope to understand the mind of God."
What kind of an answer is that?
Allow me to explain… at one point during His ministry Jesus responded to a Pharisee (religious leaders in their day) who attempted to use scripture to trap him into error. Our Lord rebuked the Pharisee and explained to the man, "You neither know the scriptures nor do you understand them." Then, Jesus went on to explain the scripture the man was attempting to quote and gave him the meaning. Unfortunately, the Minister on that Television News Program did not understand the scripture well enough to correctly answer the question. The answer is… God doesn't have a thing to do with evil. So… why would a compassionate all powerful God allow horrible things to happen to good people? Well… Let's take the example of these horrible mass shootings that happen periodically? What about the mass shooting that occurred at Virginia Tech in 2007 where 32 young people were killed and 17 were wounded? So many innocents killed by a deranged man? First of all, God wasn't involved. It was a DERANGED MAN filled with a lust for self-importance that killed those people. But God, all knowing, all powerful, all compassionate, didn't stop him!
Why?
Let's phrase the same question another way… God, all knowing, all powerful, all compassionate, did not take away this deranged man's free will.
Why?
The answer is… because God gave men and women free will in the first place. God doesn't say something today and then tomorrow change His mind. As a matter of fact… God doesn't say something today and then ten thousand years from now change his mind. God's Word is the glue that holds creation together. God's Word doesn't change.
"And God blessed them, and God said unto them, be fruitful,
and multiply and replenish the earth, and subdue it, and have
dominion over the fish of the seas, and over the fowl of the
air, and over every living thing that moveth upon the earth."
Genesis 2: 28
God created the earth and turned it over to mankind and womankind and their descendants forever.
GOD GAVE US FREEWILL.
Which means that everything is available to us. Every evil thing and every good thing is available to us. GOD will not interfere with our exercise of free will. The Creator limited his power over his own creation, handing that power over to Adam and Eve and their descendants forever. However, the Creator WILL answer the prayers of the faithful as long as the request is in line with his given Word. He does answer faith-filled prayers. The Father may choose to protect his own but still… mankind has free will. Men can commit the most heinous acts upon other men or they can love their children and their wives and protect them and provide for them. We can obey God's commandments or not obey them. The choice is ours.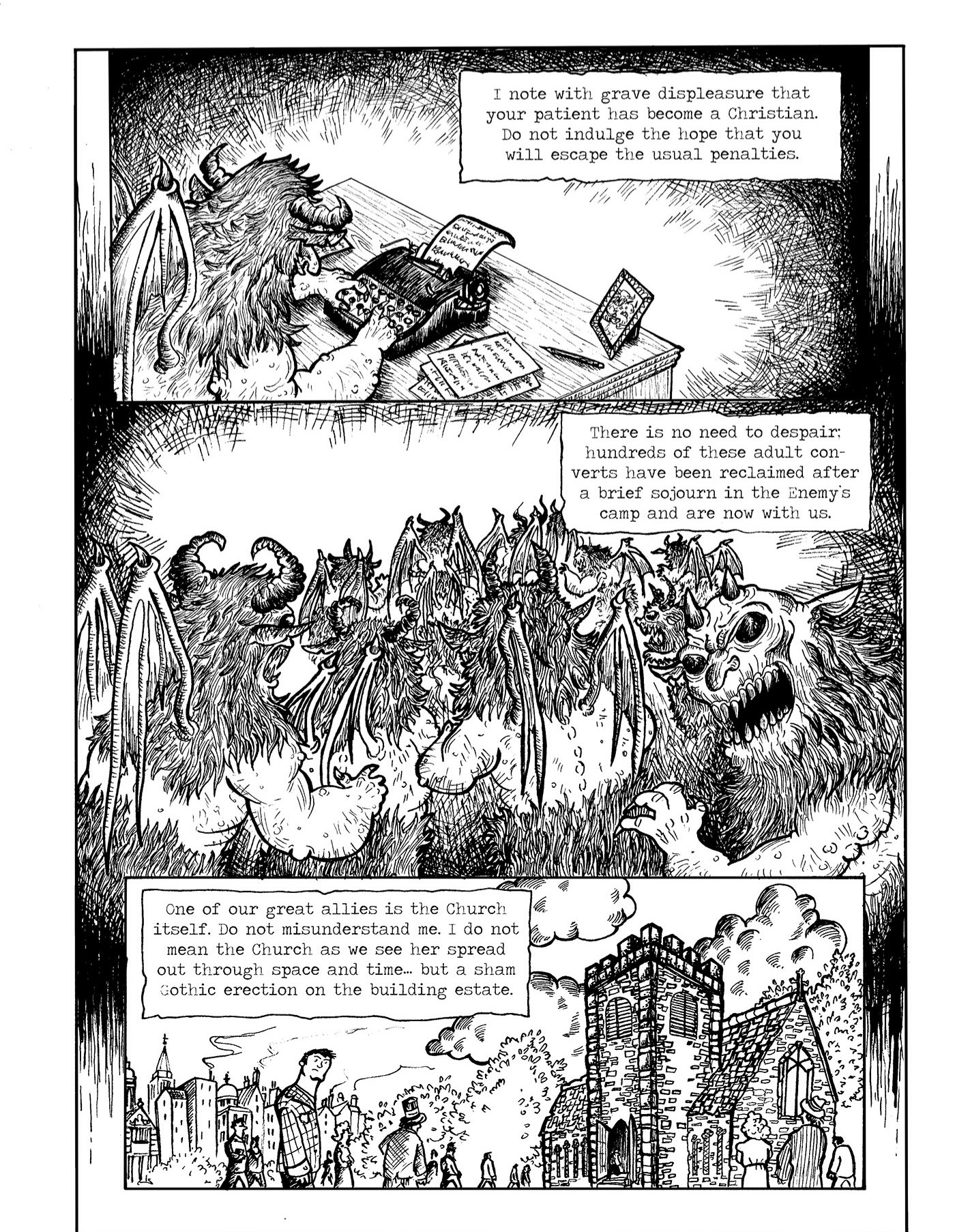 Illustration from a Graphic Novel Version of C.S. Lewis' Masterpiece... The Screwtape Letters.
But, God didn't just give us this great gift and leave us to our own devices. He also gave us His Word. There are thirty-nine books in the Old Testament and twenty-seven books in the New Testament. There are nine hundred and fifty-six pages of His Word in the King James Version of the bible. He gave us a guidebook for life. He also gave us the ministry of the Prophets and the ministry of the Messiah. He gave us the example of Jesus Christ who overcame the world and conquered death.
We can study His Word and develop faith muscles that will move mountains… or not. But, God doesn't change His mind and He will not take free will away from mankind. Therefore, unless all men and women repent of their sins and turn to Jesus Christ as their Savior and Lord, evil men and women will unfortunately continue to use their gift of a free will in perverse ways and they will continue to do horrible things to good people.

Faith For Tomorrow
---
---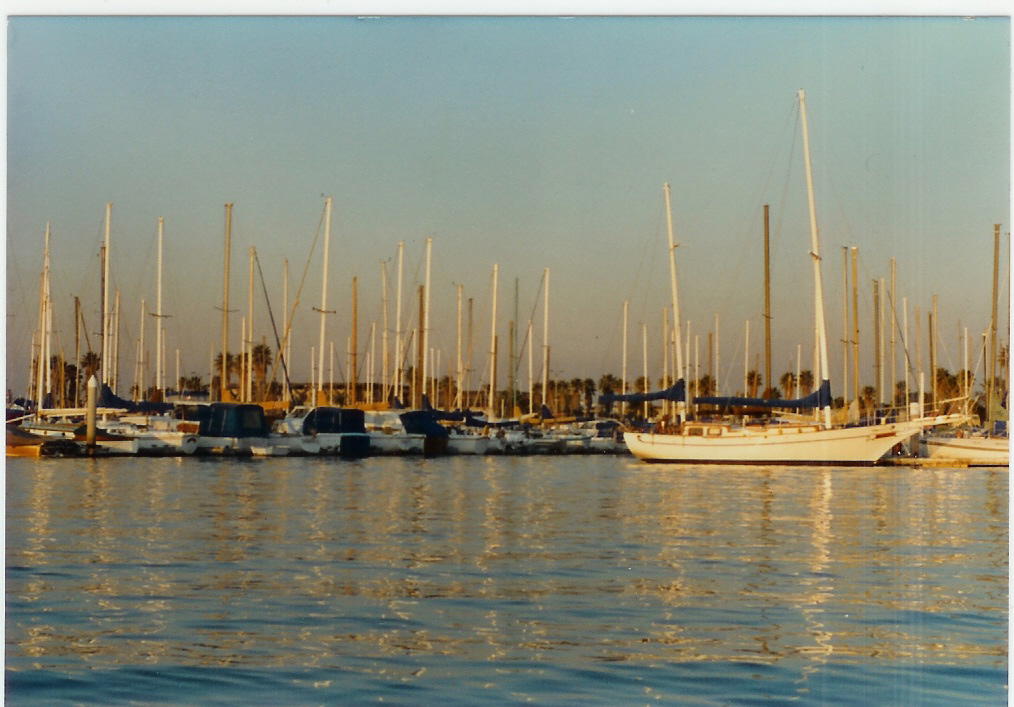 The photo above was taken in the Marina at Seal Beach, CA, in the 1980s. It doesn't really have anything to do with the article below, but somehow it seems fitting for it to be placed here. Anyhow, it looks good.
PRAY ALWAYS IN THE NAME OF JESUS; THAT NAME ABOVE ALL NAMES.
When you pray, always pray in the name of Jesus.
Unfortunately, many well-known religious figures will accept an invitation to give an invocation or opening prayer at the beginning of an event and then to be Politically-Correct (WOKE); or to appear inclusive (in the name of Diversity), will pray in the name of some generic god. But, there is no such entity as a generic god. As Christian Believers, we respect the cultures of others and their beliefs, but we do not accept them as our own; there is only one GOD. And, any god other than the GOD of the Bible—Almighty GOD, the Lord GOD of Israel—is not a god but a vain idol.
Jesus was unequivocal. He said if you speak my name before men, I will speak your name before the Angels of GOD. He also said, if you are ashamed of me when you appear before men, I will be ashamed of you when I stand in the presence of the Father.
Whosoever therefore shall be ashamed of me and of my words in this adulterous and sinful generation; of him also shall the Son of man be ashamed, when he cometh in the glory of his Father with the holy angels. (Mark 8: 37-38) KJV
For whosoever shall be ashamed of me and of my words, of him shall the Son of man be ashamed, when he shall come in his own glory, and in his Father's, and of the holy angels. (Luke 9: 25-27) KJV
Jesus told the Pharisee and the Sadducees … I AM. They all knew what that meant. Jesus had said I AM GOD. I AM is the sacred name no Judean was ever allowed to utter. It would have been the highest form of blasphemy for Jesus to speak that name if he were merely an important prophet; or simply some great religious teacher. He was not! Jesus was and is … GOD! Therefore, it is perfectly acceptable for him to say I AM. If he had said anything else, he would have been lying.
For example, in the book of John, Chapter 7, it is written, "Then cried Jesus in the temple as he taught, saying, Ye both know me, and ye know whence I AM: and I AM not come of myself, but he that sent me is true, whom ye know not. But I know him: for I AM from him, and he hath sent me. Then they sought to take him: but no man laid hands on him, because his hour was not yet come." (John 7: 28-30) KJV
In conclusion … When a Preacher of the gospel stands before a large audience and fails to utter the name Jesus because he does not want to offend someone, he is sinning. Those who know who Jesus is, have no excuse. An unbeliever would have a reason because they are ignorant! But a preacher of the gospel, denying the name of Jesus before men. WOW!
The following is an excerpt of a conversation between our Lord and Martha, the sister of the Lord's friend Lazarus whom Jesus rose up from the dead, Jesus saith unto her, Thy brother shall rise again. Martha saith unto him, I know that he shall rise again in the resurrection at the last day. Jesus said unto her, I am the resurrection, and the life: he that believeth in me, though he were dead, yet shall he live: And whosoever liveth and believeth in me shall never die. Believest thou this? She saith unto him, Yea, Lord: I believe that thou art the Christ, the Son of God, which should come into the world. (John 11:23 – 27)
Following that, what can one say? Well, How about … JESUS IS LORD!
---
---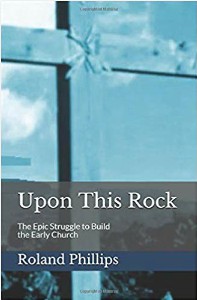 Faith for Tomorrow would like to recommend a reasonably priced novel to our Readers, which is now available on Amazon. The title is… Upon this Rock.
Upon this Rock is a retelling of scripture covering the ministry of Jesus and the building of his church. This historical novel is written in the voice of Luke, the Physician, who gave us two books within the Christian Bible; the Gospel According to Luke and the Acts of the Apostles. The author attempts to expand the narrative Luke gave us regarding the ministry of Jesus and the building of his church while trying to fill in blanks. It's as if the author took the two books, the Gospel According to Luke and the Acts of the Apostles, right out of the King James Version of the Bible and combined and expanded the manuscript into one history; then, translated the difficult King James English (very few thees and thous) into an idiom easily understood by almost anyone in our modern world. The text follows Paul's evangelical journeys as the great evangelist trudges through Israel, Judea, Asia Minor, Syria, Greece, and Italy, bringing the gospel to a hostile Roman world. This work follows (and translates) the King James Version of the Bible—which to generations of believers is the greatest version—diligently. However, if you've ever been frustrated by the Early Modern English of the KJV… UPON THIS ROCK is for you. So, come on… take a journey with the author through the Ministry of Jesus and the building of his church as seen through the Physician's eyes, all explained in common everyday twenty-first century English.
Note: Upon This Rock is a historical novel; history and scripture as seen through the author's eyes. Often a reader might come across something in a book where the author describes what was said in a closed room between two historical figures. How did the author know what was said in that room? Well, the truth is, he or she didn't know; the author presented the reader with educated guesses based on a thorough knowledge of the times, mores, and customs of that particular era in human history and an informed understanding of the characters involved. That's what the author of Upon This Rock has done; attempting to fill in the gaps. A few lines of scripture may cover decades. The events that occurred in a decade cannot be told in a few lines of prose; therefore, why not use your knowledge of the people, language, and customs of that era to fill in the gaps as best you can? The author considers his novel accurate regarding history but does not view his work TO BE history because he imagined himself a fly on the wall in too many closed rooms.
For the absolute truth, go to the Scriptures.
Upon This Rock is Available now: in paperback and as an e-book on Kindle unlimited on Amazon.com.
Faithfortomorrow.net gives Upon This Rock a rating of five stars.
CLICK ON THE LIVE LINK EMBEDDED ABOVE WITHIN THE COVER ILLUSTRATION
---
http://www.alliancedefensefund.org/main/default.aspx